Size: 85 Feet | Make: Gulet | Type: Motors
Captain: Warren East
1st Mate/Chef: Elizabeth Lee
Languages: Warren East
Yacht Info
Accommodations:
1 Master stateroom fwd w/ separate shower and bathroom and queen bed with tempura pedic mattress, 1 Master stateroom aft w/ separate shower and bathroom and queen bed with tempura pedic mattress, 2 x ensuite, guest queen bed staterooms.
Toilets are freshwater and are domestic (not marine heads, no pumping!)
Calendar
(15 December -30 April)
Turkey
(1 May - 14 December)
Turkey
Please call for prices, rates and availability.
Rates:
| | | | | | | | |
| --- | --- | --- | --- | --- | --- | --- | --- |
| | 2 Pax | 3 Pax | 4 Pax | 5 Pax | 6 Pax | 7 Pax | 8 Pax |
| W 2017 | 18,000 | 19,000 | 20,000 | 21,000 | 22,000 | 23,000 | 24,000 |
| W 2018 | 18,000 | 19,000 | 20,000 | 21,000 | 22,000 | 23,000 | 24,000 |
| W 2019 | 18,000 | 19,000 | 20,000 | 21,000 | 22,000 | 23,000 | 24,000 |
| W 2020 | | | | | | | |
RATES DO NOT INCLUDE CREW GRATUITIES (TYPICALLY 15-20%)
Rate Details:

MCA Compliant: N/A
Rates are All Inclusive
Taxes, re-location fees, cruising permits and licenses may be extra. Please verify with clearing house.
Additional Rate Details:
Lady Elizabeth is seriously for sale, please inquire for availabilities.
Summer 2017 Choice of Rates:
———————————————————-
Lady Elizabeth all inclusive rate 2017:
Rates quoted above are ALL INCLUSIVE
Note: Includes air conditioning for the month of August only
——————————————————-
Lady Elizabeth Plus Expenses Rate 2016:
2 pax 12,000.00 USD + APA 4,000.00 USD per week
4 pax 13,000.00 USD + APA 5,000.00 USD per week
6 pax 14,000.00 USD + APA 6,000.00 USD per week
8 pax 15,000.00 USD + APA 7,000.00 USD per week
Note: Extra costs for A/C if req'd to run all night (usually August)
——————————————————–
All rates are for 7 nights, 8 days. To prorate these rates:
For 6 nights divide weekly rate by 7 and multiply by 6
For 5 nights or less divide weekly rate by 6 then multiply by number of nights.
High Rate: $24,000 USD per week
Low Rate: 26,500 USD per week
Summer Ports: Turkey
Winter Ports: Turkey
Summer Operations: Winter Operations
Winter Operations: Turkey
Location Details: Located in Turkey, inquire for other locations.
MCA Compliance: N/A
Pref. Pick-up: Montenegro
# Pax: 8
Showers: 4
Wash Basins: 4
Heads: 4
Beam: 23.1 Feet
Draft: 7.7 Feet
Refit: 2013
# Cabins: 4
Cabin Configuration: 4 Queen(s)
Jacuzzi: No
A/C: Full
Salon Tv/VCR: Yes
Salon Stereo: Yes
# CD's:
Sun Awning: Yes
Deck Shower: Yes
Gay Charters: Gay Charters: 0
Hairdryers: Yes
Guests Smokes: non smoking yacht
Pets Aboard: No
Guest Pets: Yes
Children Ok: Yes
Minimum Age: none
Generator: 22kw
Inverter: Victron
Voltages: 24V, 220v, 110v
Water Maker: 170gal/hr
Water Cap.: 6 tons
Ice Maker: Yes
Sailing Instructions: Yes
Internet Access: Onboard WIFI
Couches in both fore and aft masters can convert to babies cribs, also collapsible baby bed on board. Master cabin aft has flat screen, hard drive with 800+ movies.
Dinghy size: 14.5ft
Dinghy hp: 25
Water Skis Adult: Yes
Kneeboard: Yes
Snorkel Gear: 8
Tube: Yes
Scurfer: Yes
Wake Board: Yes
Kayaks 1 Pax: 1
Kayaks (2 Pax): 1
Floating Mats: 2
Boarding Ladder (Loc/Type):
Beach Games: Yes
Make purified drinking water?:
Re-usable water bottles: Yes
Other Green Initiatives: Boat recycles; all septic systems are pumped. Boat sails nicely so burns minimum amounts of fuel.
Fishing Gear: Yes
Gear Type: 2 x trolling; 2 x spinning
Rods: 4
Deep Sea Fish: Yes
Special Diets: Yes
Kosher: Yes
BBQ: Yes
Engines/Generators: Main Engines: 465 HP DAF Generator : 21 KW - Iveco brand
Range: fuel consump
Fuel Consumption: US Gall/Hr
Cruising Speed: 10 knots
Max Speed: 12 knots
cell phone does it all! Free wifi up to 10 Gigabytes, can be replenished if needed.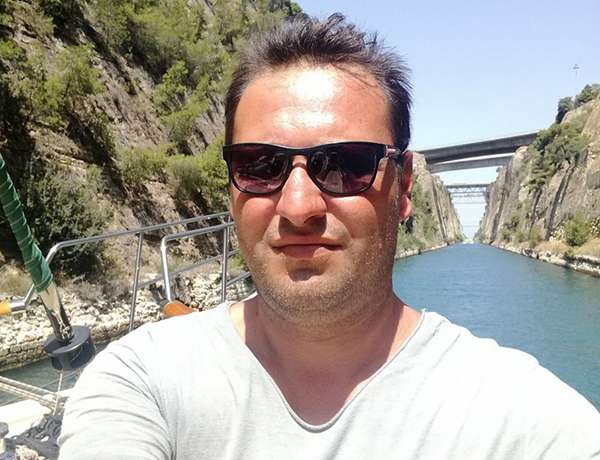 Captain: Warren East
1st Mate/Chef: Elizabeth Lee
Languages: English
Crew Profile:
Crew Profiles:
CAPTAIN – WARREN EAST
Captain Warren has been sailing commercial yachts since 1994, holds a 3000 tons officers certificate and has completed over 200 charters since he began his career. He has successfully project managed the construction and operation of several large catamarans and has built himself an outstanding reputation in the yacht charter industry, as a conscientious sailor and acclaimed host. His most recent position was aboard a luxury, 98ft catamaran that sailed in the Caribbean in the winter and the Mediterranean in the summer.
In January 2012, Warren and his partner, Chef Elizabeth Lee, opted to purchase their own yacht. Turkey, as one of their favorite cruising areas, was naturally the perfect place to embark on this endeavor and a traditional Turkish sailing gulet was the ideal vessel.
The search for the perfect yacht was a lesson in itself. Warrens expertise in aluminum and composite yachts, combined with extensive research, paved the way to success. When the couple found Orfeus, they immediately fell in love and purchased the elegant schooner, and began converting her into a stylish, contemporary and luxurious sailing yacht, appropriately christened Turkish Delight.
Captain Warren is amicable, charming and extremely knowledgeable. He will guide you through the Greek Islands or Turkey using his vast experience and local insight to keep you enthralled and enchanted every step of the way, with maximum safety and ultimate comfort.
CHEF – ELIZABETH LEE
Chef Elizabeth graduated from Kelowna University of Culinary Arts in 2001. She worked as sous Chef at a five star, fine dining, Italian Restaurant in Whistler, British Columbias largest ski resort town. Following this she made the move into the yachting sector and quickly progressed as a renowned chef in the industry. As a yacht chef Elizabeth won various competitions throughout the Caribbean, including Concours de Chef and Best Chef of the Year.
In 2006, Elizabeth teamed up with Warren and together they successfully operated both a 73ft catamaran and a 98ft catamaran for seven years. This experience stimulated her to raise the bar and augment her repertoire by studying multinational styles of cuisine including sous vide and molecular gastronomy. She enthusiastically demonstrated her talents wherever she sailed.
In 2008, Elizabeth followed in her mother's footsteps and began writing her own cookbook titled Made With Love. The recipe book is comprised of dozens of wonderful dishes, illustrated through an array of stunning photographs taken by Warren.
As Chef on Turkish Delight, Elizabeth serves her guests a tantalizing selection of her gourmet creations, made with only the finest and freshest ingredients purchased in regional fresh markets and prepared according to guests appetites and preferences.
Warren and Elizabeth promise to provide you and your friends or family with an outstanding vacation on board Turkish Delight. They are highly skilled, very knowledgeable, and genuine proponents of service with big smiles.
MATE – Brazil Scarborough AKA "Brother"
MATE – Aykut
Sample Menu:
Sample Menu 2013 Chef Elizabeth Lee
Gourmet Deluxe Dining on Lady Elizabeth
Day 1:
All meals are served with fresh baked bread
Lunch
At the end of every lunch all meals are served with the option of home made ice cream, frozen yogurt or sorbet.
Seared shrimp salad dusted with smoked paprika tossed with quinoa, cherry tomato salsa, arugula, and avocado feta crumble.
Dinner
1st course
Mozzarella di Buffala Campagna with vine ripe tomatoes, slow roasted beets, prosciutto, shaved red onion, and pesto emulsion on a crostini round.
2nd course
Beef tenderloin sous vide to perfection then finished on the grill served with a fennel and potato gratin, steamed vegetables, garlic tuile, and a chorizo moral mushroom jus.
3rd course
White chocolate cheesecake fingers with a raspberry compote whip, raspberry caviar, and dust of raspberry Lyo with chocolate shavings.
Day 2:
Lunch
Sous Vide mango and Brie stuffed organic chicken breast paired with a fresh Greek salad, baby arugula seared Hallim, and a light oregano vinaigrette
Dinner
1st course
Smoked mozzarella wrapped in a Turkish filo pan seared paired with fresh figs, baby arugula, toasted whole walnuts, and drizzled with rosemary infused honey.
2nd course
Potato wrapped black cod on a bed of soft polenta with caramelized onions and a tomato vodka sauce finished with micro organic coriander and shaved croquette.
3rd course
Frozen chocolate finger with a vanilla cookie crust, black pepper ice cream, and peanut brittle.
Day 3:
Lunch
Steamed mussels in a chorizo, fennel, and white wine broth served with garlic rubbed crostini, shaved Parmesan, and micro arugula.
Dinner
1st course
Smoked tuna tartar in a cucumber shell with ginger ice in a sorbet glass filled with apple wood smoke finished with wasabi fraiche and mango caviar.
2nd course
Five Spice rubbed magret de canard seared on a polenta round with sautéed green beans, braised fennel with orange and honey, crispy leeks and a sweet chili orange reduction.
3rd course
Honey infused crème brulee flambé finished with spun sugar spring and fresh raspberries
Day 4:
Lunch
Sous Vide NY Strip finished on the grill with porcini cous cous, fresh cucumber rectangles, oven dried cherry tomatoes, fresh herbs, blue cheese crumble, blue cheese stuffed baby Bella, fresh herbs, and reduced balsamic.
Dinner
1st course
Smoked goat and Parmesan cheese soufflé served with crostini, Dijon whip and smoked sea salt.
2nd course
Traditional bouillabaisse served with pouched halibut, lobster, and shrimp finished with garlic infused crouton and micro arugula
3rd course
Molten lava chocolate cake paired with cardamom infused crème anglais, nut crisp, and candied pecans.
Day 5:
Lunch
Fresh yellow fin tuna Carpaccio with green salad and summer salsa
Dinner
1st course
U10 scallops seared topped with lump fish caviar and chive finished with an asparagus and manchego emulsion, lemon foam and extra virgin olive oil.
2nd course
Seared duck tossed with home made vermicelli finely chopped green beans, scallion, and pear topped with fresh organic baby arugula and scented with "eye dropper" reductions of port, citrus balsamic, and fig.
3rd course
Mango Panna cotta finished with a fresh organic berries, mint, and blueberry sugar.
Day 6:
Lunch
Seafood Paella infused with saffron served with fresh organic seared chicken, chorizo, white fish filet, shrimp, and mussel or clams.
Dinner
1st course
Thinly sliced Cherry wood smoked duck breast with a porcini cream, red pepper salsa quenquelle with basil, Dijon, and reduced fig balsamic.
2nd course
Seared sea bass on a bed of Israel couscous tossed with lump crab, scallion, coriander, lemon scented olive oil, and roasted cherry tomatoes finished with a mango salsa, crispy leek, dehydrated tomato, and a red pepper reduction.
3rd course
Chocolate torte round layered with frozen strawberry parfait lemon sorbet quenquelle, pomegranate seeds, fresh mint and butternut tuile round dusted with hibiscus sugar.
Day 7:
Lunch
Nicoise salad: smoked black sesame encrusted sashimi grade yellow fin tuna paired with a caper infused potato salad, caramelized onion, roasted red pepper green leaf salad, cherry tomatoes, celery wedge, shaved cucumber, boiled egg, olives, nicoise olives, and reduced balsamic glaze.
Dinner
1st course
Dorade ceviche paired with a mango, tomato, and chive salsa with chiffonade of sugar snap peas, and baby radishes served with crostini and a tellicherry pepper whip.
2nd course
Pork tenderloin stuffed with goat cheese and chorizo wrapped in prosciutto sous vide atop green beans served with twice baked new potatoes with white chocolate and roasted plum tomato finished with a pancetta crisp and cracked tellicherry pepper sauce
3rd course
Summer fruit salad dusted with hibiscus paired with yogurt raviolis, fig pearls, and honey crumiel crisp.
Day8:
Lunch
Filo wrapped dorade (Mahi Mahi) served with fresh organic greens a mango papaya summer salsa and citrus vinaigrette.
Dinner
1st course
7 hour of lamb spring rolls atop palm hearts stuffed with an herb cream cheese, basil, red pepper concasse, and oyster glaze
2nd course
Curry scented poached Caribbean lobster tail atop a potato croquette finished with sautéed asparagus, quail egg, micro basil, parmesan crisp and a cauliflower emulsion.
3rd course
White Chocolate mousse in a Martini glass with a fresh fruit medley and strawberry compote.
Day 9:
Lunch
Seared shrimp or Lobster salad marinated in a Bangkok blend atop Russian banana potato salad with chorizo, greens, heirloom tomatoes, peas, and a cheese crisp.
Dinner
1st course
Citrus infused lobster salad finished with a Lobster bisque and micro herbs
2nd course
Leg of lamb roasted for 7 hours finished with sweet potato chips, oven roasted heirloom root vegetables, caramelized onions, mashed potatoes and a lamb demi- glace.
3rd course
Peach parfait tier with vanilla sponge cake fresh peach, peach caviar, pistachio nut wedge and finished with peach foam.
x/x/x/x/x/x/x/x/x/x/x/x/x/x/x/x/x/x/x/x/x/x/x/x/x/x/x/x/x/x/x/x/x/x/x/x/x
SAMPLE MENU "FAMILY STYLE"

Day 1:
Lunch:
Greek style family buffet with grilled chicken souvlaki, greek salad, hummus, tatziki, grilled pita, and marinated olives.

Dinner:
Marinated seabass cooked on the grill served with a rice pilaf grilled vegetables and salad.

Dessert:
Homemade chocolate cake drizzled with crème anglaise.

Day 2:
Lunch:
Seared shrimp salad with fresh avocado, tomatoes, greens, and feta.

Dinner:
Chicken breast infused with fresh herbs and stuffed with lemon served on grilled potatoes with a Dijon whip, and seared vegetables.

Dessert:
Baked apple tarts served with caramel sauce and vanilla ice cream.

Day 3:
Lunch:
English Fish and Chips

Dinner:
Large king prawns brined stuffed and cooked on the grill with bulgar pilaf and grilled zucchini.

Dessert:
Caramelized bananas served with whipped cream and puff pastry

Day 4:
Lunch:
Cheddar cheese stuffed hamburgers with French fries.

Dinner:
Vegetable lasagna and Caesar salad

Dessert:
Caramel peach torte with peach sorbet

Day 5:
Lunch:
Gazpacho soup served with grilled cheese sandwiches and salad

Dinner:
Marinated Ny strip seared on the grill served with mashed potatoes and grilled vegetables with a peppercorn sauce.

Dessert:
Chocolate soufflé

Day 6:
Lunch:
Marinated lamb kebab served with Turkish Meze and salad

Dinner:
Grilled sea bream on a bed of Israeli cous cous with vegetable ratatouille and salsa verde.

Dessert:
Mango panna cotta with macerated strawberries and fresh cream.

Day 7:

Lunch:
Homemade Mediterranean style pizzas with bocconchini salad

Dinner:
Roasted leg of lamb served with rosemary scented new potatoes, roasted vegetables and lamb jus.

Dessert:
White chocolate mousse with fresh fruit.
Also view Elizabeth's website www.madewithlovecookbook.com
[gravityform id="1" title="true" description="false" ajax="true"]